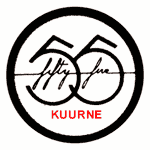 Here's a tape I ripped from a legendary Belgian club called "Club 55". The tape was recorded in 1991 and consists out of 2 parts (as most audiotapes do ...).
There are a few tracks who appear in both parts, so I suppose the recording covers 2 different dates. Don't ask me which dj did this mix, it's a f*ckin 1991-tape, people didn't care, and handwriting was yet to be invented.
For all those suckazz talkin' bout so called "nu-rave": have a good listen to the real stuff!!
One last thing: there's a "comments" button somewhere down here ... feel free to use it.
55 Kuurne - 1991